---
With the last of my undergraduate courses done and now that I'm officially a college graduate, I decided to unwind the best way I know how: by treating myself to a nice cold brew.
When writing for my college's school newspaper, I would often write the "Brews Under Review" column in our Life & Arts section where we would visit a local brewing company and review their beers. Truth be told I never would have imagined myself doing so when I first joined the paper, but it was honestly one of the coolest experiences to have had the opportunity to do. I truly enjoyed writing for the column and wanted to find a way to carry it over and continue reviewing beers.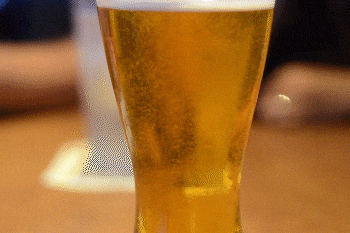 In treating myself after working like a dog this semester, I opted for Strawbeery Fields from Three Heads Brewing. Three Heads Brewing, a brewing company brewing out of Rochester, NY describes the beer on their website:
Let me take you down with 160lbs of real strawberry added to this light, easy drinking lager! Nothing to get hung about as the berry essence lives in harmony with your senses until the last gulp. Come take a trip with us to the Strawbeery Fields!
As a fan of The Beatles, I automatically approve of the artwork on the bottle of a yellow submarine tractor pulling a giant strawberry while the brews name points to the band's "Strawberry Fields." At first glance, Strawbeery Fields has a nice golden amber coloring while the brew gives off a faint strawberry scent that is married with a hoppy smell.
I have to admit that I personally found the strawberry taste from this brew to be really faint and that it perhaps could be amplified. While the strawberry flavoring of the beer might be on the lightside, this beer does present a smooth and great taste.
This Beatles-inspired brew has an ABV (Alcohol By Volume) of 4.5 percent while the brew's IBU (International Bitterness Units) float in at 9.4 out of the potential 100 scale of bitterness.
Three Heads Brewing wins with this creation and it's safe to say that Strawbeery Fields would be a welcome addition at any cookout whether for this Memorial Day or after a hot summer day. It's a smooth beer that would pair well with many of your grilled foods, be it hot dogs or some burgers.
Overall I think that I would get this beer again. I could see having this brew as the perfect sweet pairing alongside some spicy Italian sausage topped with peppers and onions. While I would have liked to have tasted more of the strawberry flavoring suggested in the description and the name, this beer does provide a nice light and smooth taste that earns itself a 3/5 rating. Check your local grocer or wherever you buy beer to see if you can snag Strawbeery Fields today!