Politics right now in this country are complicated and draining. We don't dive into it much, but it doesn't mean we're not distressed. So when I heard about this book, I felt like it was just what the doctor ordered!

Hope Never Dies, written by New York Times best-selling author Andrew Shaffer was released in early July. As soon as I heard about it on Twitter, I quickly reserved it from our local library (Seriously go support your local libraries, folks!!) Shaffer has also authored parody works including Catsby: A Parody (a feline riff on the F. Scott Fitzgerald classic The Great Gatsby), Fifty Shames of Earl Grey (a parody on Fifty Shades of Grey) in addition to other humor works such as the yuletide-themed It's Beginning to Look a Lot Like F*ck This and the amusingly-titled How to Survive a Sharknado and Other Unnatural Disasters: Fight Back When Monsters and Mother Nature Attack.
Published by Quirk Books, Hope Never Dies is about 300 pages worth of mystery intrigue in what seems to be the first in a possible series of Obama/Biden fiction. Classified as a Mystery/Thriller fiction, this book isn't just your run of the mill Sherlock Holmes-inspired mystery! The premise really says it all:
Vice President Joe Biden is fresh out of the Obama White House and feeling adrift when his favorite railroad conductor dies in a suspicious accident, leaving behind an ailing wife and a trail of clues. To unravel the mystery, "Amtrak Joe" re-teams with the only man he's ever fully trusted—the 44th president of the United States. Together they'll plumb the darkest corners of Delaware, traveling from cheap motels to biker bars and beyond, as they uncover the sinister forces advancing America's opioid epidemic.
If you were to combine elements of any Sherlock Holmes mystery, pepper in antics seen in many comedy films such as The Hangover, and of course sprinkle in elements of our beloved political bromance – you'd get this book. Is it cheesy at times? Oh YES! But in these chaotic times isn't that something we kind of all need?
CAUTION: POSSIBLE SPOILERS AHEAD!!
The book has a bit of a slow expedition, but it quickly revs up its hemi as the reader is immersed into the mysterious circumstances surrounding the death of Biden's friend and former Amtrak conductor Finn Donnelly. The book does a good job of having conflict; however, there were times that it was a predictable conflict as you knew exactly what was going to happen. There's also good conflict in the sense of with the characters themselves as we see Biden and Obama feuding like brothers (sometimes too much), or in how the Wilmington Police struggle against the Secret Service's involvement.
I should mention that this book isn't meant to be read with total seriousness (After all, it's meant as an antidote to the current dismal state of affairs). That being said, the book does a fantastic job at blending action with humor. Whether it's the hilarious way that Biden and Obama's personalities shone through in their actions and dialogue (I still can't get over the papa-stoppers condom comment from Biden in chapter 25) or the way that the iconic duo are zooming around in badass cars while Biden sports his Rayban sunglasses enough to outdo David Caruso's CSI Miami days.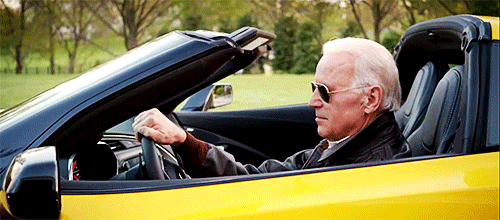 If you're looking for a light read to take not so seriously, definitely check out the latest from Andrew Shaffer. Hope Never Dies is like the dad lit you never knew you needed. In the words of Stefan from SNL, this book has everything – Biden eating ice cream, presidential fistbumps, Bernie jokes, oh and did I mention Obama majestically riding a unicorn? Check it out and let me know what you think – it's definitely a great way of delivering some of the best medicine given the mucky state of the world.
Overall, I'd give the book 4 out of 5 stars. Don't forget you can always follow me on Goodreads if you want to know what books I'm reading! Happy Reading!