I realize it's been a bit dead here on the blog in recent weeks. Classes just started up again for both of us and its been a bit of a transition period as we get into the swing of things again. Don't worry though, while our posts might be a bit more sporadic, we're still here! I thought that I'd share my August favorites today, which admittedly might be somewhat sparse as it's just one of those months where I haven't got loads to talk about. Let's just get into it shall we?
Made by Design Duvet – I've been looking for a new duvet for a really long time now. I'm picky and duvets can be really expensive! While browsing the isles of Target recently, I saw they had new bedding in and this duvet in particular which, is pretty much exactly what I've been looking for. It's got ties to keep your duvet in place, buttons up to close and has a really nice edge which makes it look like it cost a lot more than it actually did. It's also just the right color and isn't microfiber which drives me and my skin mad (I cannot stand the texture)! Oh and did I mention how utterly affordable it was?? Only $30! It seems that this new Made by Design range from Target is going to be a winner.
Floral Accent Lamp – sticking with home decor, I also picked up this lamp for a side table in my room. I've got a space that I've been working on cozying up into a nice reading space and I needed better lighting. I honestly didn't expect to find any thing at Target, but I did! I will say though that this lamp looks much better in person than it does on their website. Once the space is done, perhaps I will share it here on the blog. I've been looking for throw pillows for the small couch/futon I've got and it's been easier said than done. I found a couple yesterday at Home Goods but I need some more. If you've got any suggestions on good shops for pillows, please let me know!
Bob's Red Mill All-Purpose Gluten Free Flour – I'm not gluten free, but I do try to eat as much GF as I can because I have found that my body isn't the biggest fan of wheat (whole wheat bread and I just DO NOT get along!!). This flour from Bob's Red Mill is absolutely excellent! I've used it plenty of times as a substitute for regular flour and it works really well. I love Bob's Red Mill in general and haven't come across anything from them that I don't like so it's really no surprise that this is another winner. I also LOVE their Gluten Free pancake mix. I've been using it for years, and while I might try other mixes on occasion, I also come back to theirs because it's consistent and makes super delicious pancakes!
The Cafe by the Sea by Jenny Colgan – this was easily my favorite read in a long while. I've already written a review so I won't blab too much about it, but it was just wonderful. I just picked up The Endless Beach from the library and school reading be damned! I will get through this too! I'm currently working my way slowly through a biography of Queen Elizabeth II and really enjoying it. It's taking me some time to read but my goodness, I have learned so much!! I'm not sure if I will review it here when I'm done or not, if that is something you'd like to see, please let me know!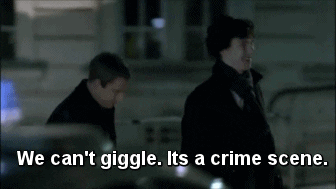 BBC Sherlock – okay, please don't judge at how slow I am to get into something – instead, perhaps marvel at my incredible restraint?? Can we view it that way? I mean, I realize I should have been watching Sherlock years ago. My sister has been a huge fan for years and I have no real reason for not watching aside from the fact that sometimes when things are well received and popular, I don't seem to want to get into them. I honestly didn't even think I'd enjoy Sherlock. For no good reason either. I'm an anglophile, I like mysteries and crime shows, and I love Elementary, so really, why the hell wouldn't I like Sherlock?? Well, I LOVE this damn show and I'm so sorry it has taken me this long to watch it (I'm sorry Missy – your nagging was worth it)!! I haven't quite finished it yet, but I know I'll be sad when I do.
Lastly, I want to mention the music I've been enjoying the most this month. I've been listening to Aretha Franklin a lot ❤, and also really loving Whispers from Passenger. I can't pick a favorite song from either, because it's all lovely.
Hope everyone had a lovely August. I'm honestly ready for September and fall. Hoping we actually get a proper fall this year. Sometimes it tends to feel like we skip over my favorite season where I live. We've got a lot of posts planned for September thanks to the upcoming television season, so stay tuned for that!