I'm a creature of habit. In most scenarios, I don't like change. Change taunts my anxiety and makes me feel threatened, uncomfortable, and like I have lost whatever control or trust that I might have had. I love a good routine and dependability. Knowing that I can trust a certain aspect of my environment to be consistent is incredibly valuable to me. When I turn on the television at night, I take comfort in seeing The Golden Girls, or Frasier on my screen. Not only are they funny and entertaining, but they've become reliable aspects of my routine. I enjoy watching my sitcom reruns, but more than that, they keep me company late at night when I often struggle to find comfort, or sleep.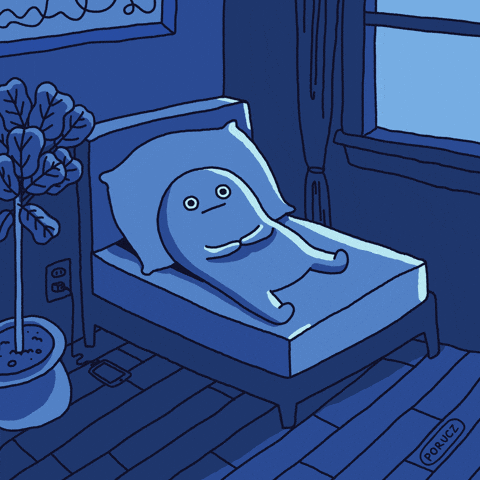 I've always had a pretty dysfunctional relationship with sleep – I remember as a kid closing my eyes and thinking, OK, if I fall asleep right now, I can get five hours of sleep before I have to get up for school. I got in trouble for reading in bed by the light coming through my window, or seeping in my room from another You'll ruin your eyes!, my mom would scream. Check mate mom – I've worn glasses for years (though, I DON'T wear them for reading). I used to love going to sleepovers at my maternal grandmother's house because she was a night owl. We'd watch I Love Lucy together, or The Golden Girls. We'd head to the grocery store at midnight, cruising around and stopping for DIY sandwiches in the car made from the deli and fresh bread we had bought. Sometimes I wonder if I'm not as much an insomniac as much as someone who just isn't meant to ascribe to normal sleeping patterns. I've come to realize it's sort of a family thing – my aunt, mother, and sister are all night owls. The difference being for them, is that they can all fall asleep quickly. Me on the other hand, not so much.
Which brings me back to my beloved sitcoms. I welcome their company every night because they're so familiar. Often times, I find myself lying awake not simply due to insomnia, but because of painsomnia. My joints, nerve pain, or some other discomfort like to keep me awake at night. So having Rose Nylund, Roz Doyle, or even Lucy and Ethel to hang out with me is a nice comfort. But come October, I find myself at a loss because Hallmark likes to go crazy for Christmas and removes their overnight sitcom reruns in favor of their Christmas movies. So I surf around looking for other sitcoms to take comfort in. Luckily there isn't much of a shortage, and I am grateful that multiple channels air them. During Christmaspalooza, I'm often watching The King of Queens, Friends, Everybody Loves Raymond, The New Adventures of Old Christine and others.
Christmas has come and gone, and generally, the start of January means that Hallmark goes back to their regularly scheduled programming. This year? Not quite. They've changed the schedule, eliminating shows, extending some and reducing others. This creature of comfort was not happy. But I'm not writing this just to bitch about how a television network messed up my routine (although, they did and I'm not gonna lie – I'm bitter about it), I'm writing this because it got me to thinking about a larger issue that has been on my mind a lot recently: digital vs. physical media.